Braves
RETURN ON INVESTMENT
LAST 10 GAMES
Atlanta Braves
MLB – NL EAST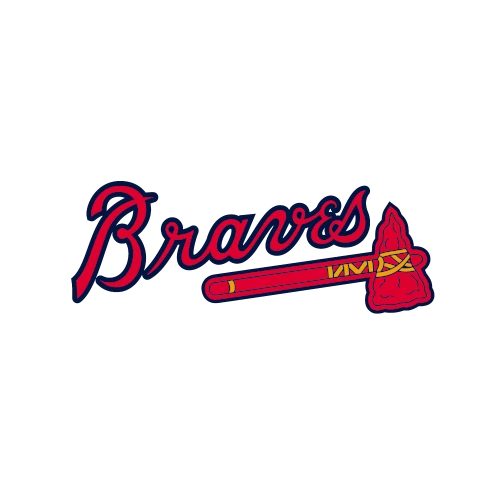 Stadium: Truist Park
Manager: Brian Snitker
2022-2023 TEAM LEADERS
Atlanta Braves
Atlanta Braves Summary
The Atlanta Braves are a Major League Baseball team that plays at Truist Park in the Atlanta metropolitan area. They are in the National League East division. Atlanta had captured 18 National League pennants and 16 National League Division Titles. Additionally, the Braves have won the World Series four different times throughout the history of the organization. Their current team uniform is a mixture of white, red, and blue. Atlanta has used the Braves nickname for over 100 years.
Atlanta Braves Standings
Atlanta Braves Betting Trends
Atlanta Braves History 
The Atlanta Braves were originally named the Boston Red Stockings. The franchise was established in 1876 making them one of the oldest sports franchises in North America. Following the nickname of the "Red Stockings," other various nicknames used by the team included; Beaneaters, Doves, Rustlers, and the Bees. Finally, the organization settled on the Braves in 1912 which has been used ever since. However, the team remained in Boston until 1952 before moving to Milwaukee. The Braves called Milwaukee home through the 1965 season before landing in Atlanta where they have remained ever since. 
The team has had a number of legendary players on the team during its history. Their most historic player is the Hall of Famer Henry "Hank" Aaron. Aaron joined the Braves in 1954 when the team was still in Milwaukee. He had a decent rookie season. But he broke out in 1955 by hitting .314 with 27 home runs and being selected to his first all-star team. He would end up making the all-star team for the next 21 consecutive seasons. Aaron was known for his pure power at the plate. He broke the all-time home record of 714 held by Babe Ruth in 1974. Aaron finished his career by setting a new home run record of 755, a number that lasted until 2007 when Barry Bonds hit his 756th career home run to shatter the record. Nonetheless, Hank Aaron is remembered as one of the greatest players to ever play the game. 
Other great players who were a part of the Braves organization include the following; Warren Spahn, Eddie Matthews, Phil Niekro, Tom Glavine, Greg Maddux, John Smoltz, and Chipper Jones. 
2022 Key Stats
The Braves are coming off of their fourth World Series victory from last season. They are expected to retain the majority of the same players from last year, and Ronald Acuna Jr. is expected to be healthy after missing the end of last season. However, with the current MLB lockout, franchise player Freddie Freeman still remains a free agent. Fans of the Braves are hopeful they can re-sign Freeman once the lockout is ended.
The rest of the infield core remains intact with second baseman Ozzie Albies, shortstop Dansby Swanson, and third baseman Austin Riley. The Braves' talented pitching staff is expected to return as well with Max Friend and Ian Anderson leading the way. 
Atlanta won just 88 games in 2021. But with a fairly mediocre division, the Braves were able to win the National League East. They were then able to perform in a spectacular manner during the postseason en route to the World Series championship. The Braves will look to utilize the momentum from winning the World Series in 2022. 
Championships Won by the Braves
The Braves have won four World Series titles. They came in 1914, 1957, 1995, and 2021. 
The Boston Braves defeated the Philadelphia Athletics in 1914. Boston swept the Athletics to earn their first-ever World Series championship. 
In 1957, the Milwaukee Braves narrowly defeated a New York Yankees team that had players such as Mickey Mantle and Yogi Berra in seven games. Hank Aaron led the Braves all season long and was ultimately named MVP in 1957. 
In 1995, it was a battle of a tremendous pitching staff vs. a powerful offense. The Braves featured an outstanding starting rotation that was led by Greg Maddux and Tom Glavine. Meanwhile, Cleveland featured an offense that had stars such as Kenny Lofton and Manny Ramirez. But in the end, Atlanta defeated the Indians in six games to capture their third World Series title.
2021 saw the Braves make it to the postseason with just 88 wins to their credit. They were immediately the underdogs in every series they played. However, they beat the Brewers in the NLDS and then defeated the Dodgers in the NLCS. The Braves then relied on a strong bullpen and surprisingly incredible performances from unsung heroes such as Jorge Soler and Eddie Rosario to upset the Houston Astros in six games to win their fourth World Series championship. 
Important Team Events
In 1976, Ted Turner bought the Atlanta Braves. Turner quickly turned the Braves into America's team, as they were the first professional baseball team to have a consistent national audience since he signed the rights for the Braves to be broadcast on his network station, TBS. This instantly grew the team's popularity and added to the overall fanbase. This helped the revenue for the team as well. 
The Braves were arguably the most consistent team in baseball from 1991-2005, as they won 14 consecutive National League East division titles. However, they were only able to win one World Series during that time frame. But their performances made them a popular betting favorite each season during that span. 
The Braves developed a pitching trio during that timespan that has become a staple in Atlanta folklore. The trio of Greg Maddux, John Smoltz, and Tom Glavine combined for seven Cy Young Awards, six of which came while the players were on the Braves. Glavine won two during his time in Atlanta, while Smoltz received one Cy Young Award. Maddux won four, however, one of those came during his time as a Chicago Cub. The three pitchers are still remembered as one of the best pitching trios in MLB history. 
The Best Braves Players
Hank Aaron is easily the most memorable Braves player of all time. The Hall of Famer spent 21 of his 23 seasons in the Braves organization and broke Babe Ruth's all-time home run record in 1974. Additionally, Aaron remains the MLB all-time leader in RBI's and total bases to this day. 
Warren Spahn was a terrific pitcher with the Braves who still posted impressive numbers despite missing three years due to military service. The left-hander finished his career with a quality 3.09 ERA and 363 total career wins. He also amassed over 2,500 strikeouts. Spahn was a 17-time all-star, one-time World Series champion, and one-time Cy Young Award winner. 
Eddie Mathews was a left-handed slugging third baseman who spent the majority of his career in a Braves uniform. He was a 12-time all-star, two-time World Series champion, and two-time National League home run leader. Mathews finished his career with 512 home runs. 
Chipper Jones spent the entirety of his 19 year Hall of Fame career in Atlanta. Chipper was an 8-time all-star, one-time MVP, one-time World Series champion, and two-time Silver Slugger Award winner. Jones finished his career with a batting average of over .300 while adding 468 home runs. 
Greg Maddux is remembered as arguably the best control pitcher of all time. He was not somebody who was going to blow you away with an overpowering fastball. But Maddux featured pinpoint control that made even the best hitters look silly. The ace was an eight-time all-star, four-time Cy Young Award winner, 18 time Gold Glove winner, and a one-time World Series champion. 
Tom Glavine was a 10-time all-star, one-time World Series champion, one-time World Series MVP, and two-time Cy Young Award winner. The lefty spent all but five of his 22 years in the big leagues with the Braves. 
John Smoltz worked as a closer and a starting pitcher during his time in Atlanta. He was an eight-time all-star, one-time World Series champion, one-time Cy Young Award winner, and one-time Rolaids Relief Pitcher of the Year Award winner. 
Top Coaches 
Billy Southworth coached the Braves from 1946-1949, and then again from 1950-1951. He finished his time with the Braves with an overall winning percentage of .542 to go along with one National League title. 
Fred Haney was the Braves head coach from 1956-1959. Despite only spending a few seasons with the team, Haney led the Braves to two National League titles and one World Series Championship. He finished with an overall winning percentage of .596. 
Bobby Cox is the most memorable Braves head coach of all-time. Cox originally took over coaching duties in Atlanta during the 1978 season. However, he was replaced by Joe Torre in 1982. But Cox re-signed with the team in 1990 and ended up staying in Atlanta until his retirement in 2010. Cox finished with 2,419 wins and a .557 winning percentage. Additionally, he led Atlanta to 14 division titles, 5 National League pennants, and 1 World Series championship
Braves Recent Trend
Next Game
Injuries
Team Stats
Frequently Asked Questions
Who are the top three all-time home run leaders in Braves history?
Hank Aaron (733), Eddie Matthews (493), and Chipper Jones (468)
Who is the all-time strikeout leader in Braves history?
John Smoltz (3,011)
When did the Braves win their last World Series championship?
2021
What city were the Braves originally founded in?
Boston
Who is the only player in Braves history to play for the franchise in all the three different cities it has called home?
Eddie Matthews
Latest MLB News