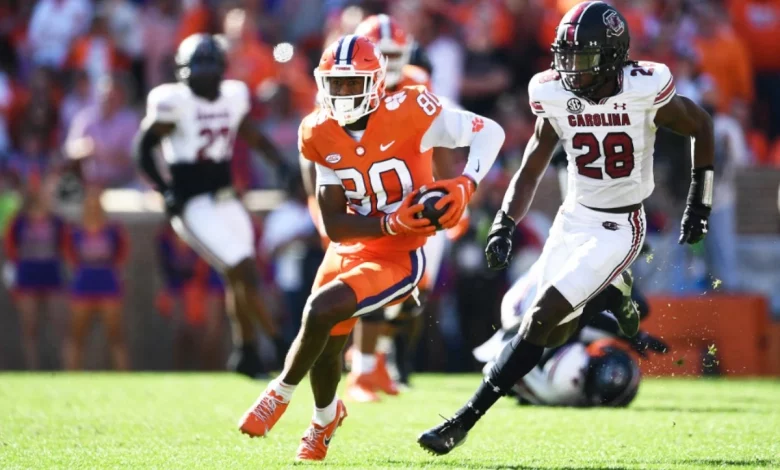 On December 3, the Atlantic Division winner Clemson Tigers will be taking on the Coastal Division winner, North Carolina Tar Heels in the ACC Championship game. The title game will be taking place at Bank of America Stadium in Charlotte. 
The Tigers will look to win their 8th conference title in the last 11 years, while the Tar Heels will be trying to make history with their first ACC championship since 1980. Read along for the Clemson vs NC picks and a game breakdown. 
Clemson Tigers vs. North Carolina Tar Heels Odds Breakdown
Clemson is coming into this conference title game as the -305 betting favorite on the moneyline. The point spread is -7.5 in favor of Clemson as well.
North Carolina Tar Heels odds today are +240 for the moneyline and a +7.5 spread. They are coming off two-straight losses and seem to be in shambles to close out a very successful season.
This will be a huge opportunity for an upset win and a good ending to the 2022 campaign.
According to college football odds and betting lines, the over/under for this game is set at 63.5 points. 
Matchup Information
Clemson vs. North Carolina Betting Preview
Clemson
The Clemson Tigers stats show they have had an upsetting year with 2 losses so far in the regular season, taking them out of the playoff in the college football standings.
But head coach Dabo Swinney is still taking this game very seriously and making it a big opportunity for his team.
Last week, Clemson dropped a 31-30 game to their rival South Carolina. That is the first time losing to them since 2013.
That is just a small peak into what this program is going through right now; coming out of an era where they dominated the college football landscape.
Clemson's at the NCAAF Schedule
Clemson is not used to being an afterthought on the NCAA football schedule going into the conference championship week.
This is going to be a massive game for the future of this program in terms of recruiting and legacy for Dabo Swinney.
One of the big issue for Clemson has been the level of play at the quarterback position. They have been used to having guys like Trevor Lawrence and Deshaun Watson leading their teams.
This season, they rank 86th in the country in passing offense, with an average of 217.5 yards per game.
North Carolina
The Tar Heels have enjoyed success, with legendary coach Mack Brown leading the program. On the field, they have been led by freshman quarterback Drake Maye.
He has thrown for 3,847 yards (4th in NCAA) and has rushed for a team-leading 629 yards and 6 touchdowns.
Mack Brown's Leadership
He leads the nation in total offense with 4,476 yards and has added 41 total touchdowns. The kid is playing at a Heisman level and has a bright future.
Clemson vs NC picks will be tough to make when a great program is going up against a dangerous team with a game-changer at quarterback.
Maye has that X-factor ability to change the game at any given moment, and that will be Clemson's top priority to stop in this weekend's ACC Championship.
Teams' Defense Battle
The North Carolina Tar Heels will give the Clemson defense all they can handle. They are ranked #15 in the NCAA in points scored per game (37.1) and are also top-10 in passing yards (320.9).
Clemson's defense is not as dominant as we have seen in years past, so this will be an interesting matchup to watch on Saturday night.
Clemson vs. North Carolina Betting Preview
The Clemson vs NC picks are difficult to make, but after breaking down this matchup and comparing the two programs, we have to go with North Carolina to cover that +7.5-point spread.
This is not an outright moneyline play for North Carolina, but lets go ahead with this game will come down to the final drive and turn out to be one of the best games of Championship Week in college football.
There are thankfully, no major college football injuries with these teams in the past week, and both teams are coming out of losses with the chance to end their season on a positive note.
This is also the last season that the ACC will have two divisions, so there is history involved.
College football matchups are never lacking in conference championship games. With Clemson having a "down" year and with not much of an identity has a program, it gives a star player like Drake Maye to shine in primetime in front of the whole country. This game might lead to an invitation to New York for the Heisman Award ceremony. 
Dabo Swinney has the most pressure out of anyone in this matchup. He needs to win this game to keep his reputation alive of dominating the ACC.
Who to Bet On?
A loss here could lead to losing recruits and respect from other programs around the country. Mack Brown could benefit a lot with a win and a great performance out of his quarterback.
The over 63.5 points is a must as well. The defenses will have a tough time stopping the opposing offense.
Clemson's rushing attack will break off a few big runs and Maye will be slinging the ball all around the field and making huge plays for UNC all night. It is going to be an exciting, fast-paced game to enjoy.
NCAAF Pick: Clemson -7.5 (-110)
If you love sports and want more sports betting information follow us as @InsidersBetDig on Twitter and sign up to our mailing list for free betting picks.